Department Of Remote Sensing & Geographical Information System
The department of remote sensing and geographical information system offers two postgraduate degree programs i.e. MS and PhD in Remote sensing and GIS. The department holds faculty specialized in GIS & Remote sensing with the background in civil engineering, agriculture, hydrology & water resources, geography, urban & regional planning, space sciences, computer science and geology.
The course curriculum covers not only specific courses related to GIS & remote sensing but also their applications in various fields as elective. The department provides state of the art research facilities to graduate students in terms of licensed software, office space, access to research material and supercomputer facility for high computational modeling and data processing. The department is involved in multidisciplinary research related to glaciology, agriculture, environmental sciences, urban & regional planning, civil & environmental engineering, natural hazard and many others. Understanding the needs and importance of GIS, the institute also offers short courses training to professionals of public and private sectors.
Graduates find employment in the burgeoning geospatial technology industry, in research departments of public and private organizations, and in major academic institutions because of their ability to build bridges to other areas.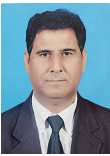 Dr. Javed Iqbal
Welcome to the Department of Geographic Information Systems (GIS). The Department of GIS was established in September 2004. The Department has continued to grow in student and staff numbers, in physical facilities, as well as in broadening and advancing academic programme. The Department of GIS holds highly trained & experienced faculty members in Spatial Sciences with PhD and MS degrees from USA and Europe. The GIS Department has state-of the art GIS & Remote Sensing Computer Laboratory with latest version of the ArcGIS and ERDAS Imagine Licensed software installed. Foremost the Department has continued to offer unique services in the areas of national interest in GIS applications in Engineering, Agricultural Sciences, Hydrological Modeling, Climate Change/variability, Glaciers & GLOF studies, Natural Resource Management, Natural Disaster Risk Management, Urban & Regional planning, and Renewable Energy Resources Planning & Management. The GIS Department has one of its Strategic Objective of tailoring its academic programs to retain a strong responsiveness to basic training in Spatial Sciences. The GIS department has trained bulk of the GIS professionals within Pakistan and some of them are serving abroad especially in the Middle East. The Department is open and welcomes you all who are keen to advance their knowledge in Geospatial Sciences through research and development for a better planet Earth. Dr. Javed Iqbal Head of Department
Read More